The
FIRE

B

ird

DEVICE

The FIREBird system provides 360‐degree wildfire detection by using a combination of wildfire‐specific thermal sensors, optical imaging, and advanced computer algorithms.

Unmanned, autonomous operation ensures fast wildfire detection and notification without the need for a full‐time staff to monitor the system.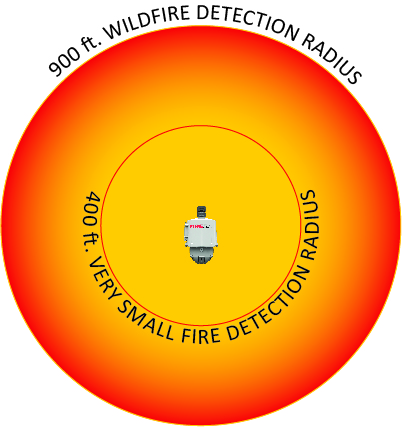 Wildfire
Detection

with

FIRE

B

ird
Continuous, 360 degree, monitoring of the surrounding area is provided by 14 wildfire-specific thermal detectors and optical cameras.
Fires as small as 3 feet by 3 feet can be detected as far as 400 feet from a FIREBird device
Fires as small as 5 feet by 5 feet can be detected up 900 feet. Larger fires can be detected even further away.
Multiple advanced neural‐network algorithms provide local determination of abnormal heat and fire events. These algorithms also minimize the likelihood of false or missed detections.
Comprehensive
Fire Monitoring
Cameras capture and transmit images of the surrounding area when a fire is detected. These images provide useful information for firefighters and create documentation to assist in determining the source of ignition.
A built-in high accuracy weather station measures wind speed, wind direction, temperature and humidity; vital information for fire fighters when assessing the fire event.
Continuous communication is ensured by built-in cellular and optional satellite radios.
Days of power backup are provided by a built-in, fire resistant battery.
Discover the F
ire

S

ense

Portal

The FireSense web portal provides real-time photos, notifications of fires, weather conditions, and more.